A crown is a type of dental restoration that fits over a tooth. When a dental crown is used to repair a tooth, a crown covers the entire visible portion of the tooth above the gum line.
Crowns can be used to restore teeth following trauma or to replace individual missing teeth.
A bridge is a type of dental restoration used to replace one or more missing teeth. A bridge uses dental crowns as anchors. A bridge is a permanent restoration that will not be removed.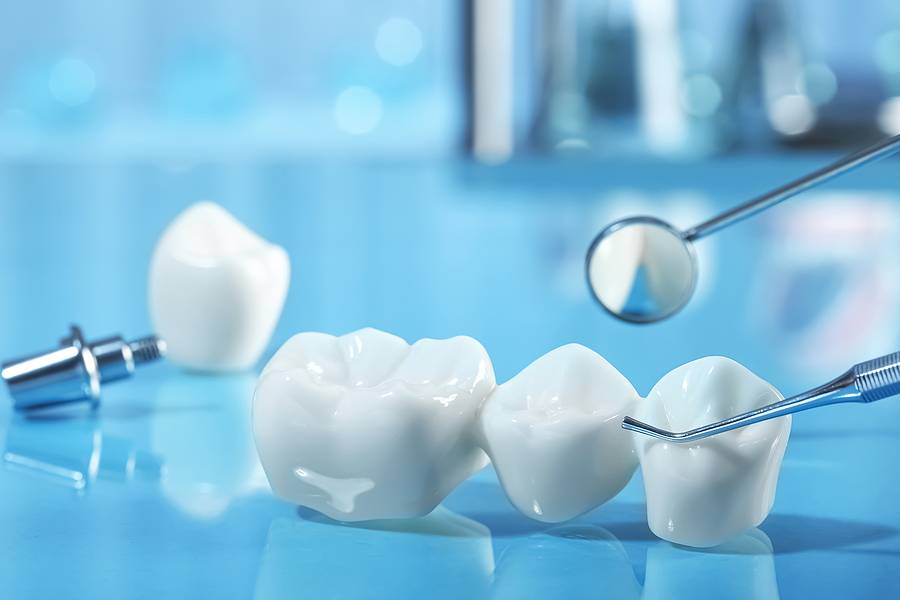 How is a Dental Crown Placed?
Before a dental crown can be installed, the tooth must be shaped to fit the crown of the tooth. The dentist will trim away a portion of the enamel from the tooth. This trimming process is called tooth preparation. After the tooth is shaped, the dentist will take an impression of the tooth. The impression of the tooth is sent to a dental lab for the creation of a custom dental crown.
Once the technician has the proper measurements, he or she will create your restoration. This process can take days, and a temporary crown will be placed in the meantime. When your customized crown is ready, the temporary one will be replaced with it.
How is a Dental Bridge Placed?
The process is almost similar to a dental crown. If a patient opts for a dental bridge, Dr. Gerard will begin the procedure by creating a mold of the teeth. This mold will be sent off to our dental lab, which will create the permanent bridge. When the permanent bridge arrives, Dr. Gerard will carefully place the bridge, ensuring that it fits perfectly and is sturdy enough to withstand biting and chewing.
What are the Advantages of These Procedures?
Both dental crowns and dental bridges offer an aesthetically pleasing, long-term solution to tooth loss. Patients looking to restore the beauty of their smile or regain the ability to chew and speak normally should speak with their dentist to determine which of these options is best for their needs.
At Arizona Dental, we ensure to provide each of our patients with a positive and relaxing experience. If you're ready to experience the best dental care, please contact us from your nearest location. We will be happy to guide you further.