For patients missing most or all of their teeth, dentures are an excellent option. Dentures are removable replacements for missing teeth and surrounding tissue. They are custom-designed to fit your mouth and are removable.
Dentures are made out of acrylic resin. This material can be made to look as realistic as possible.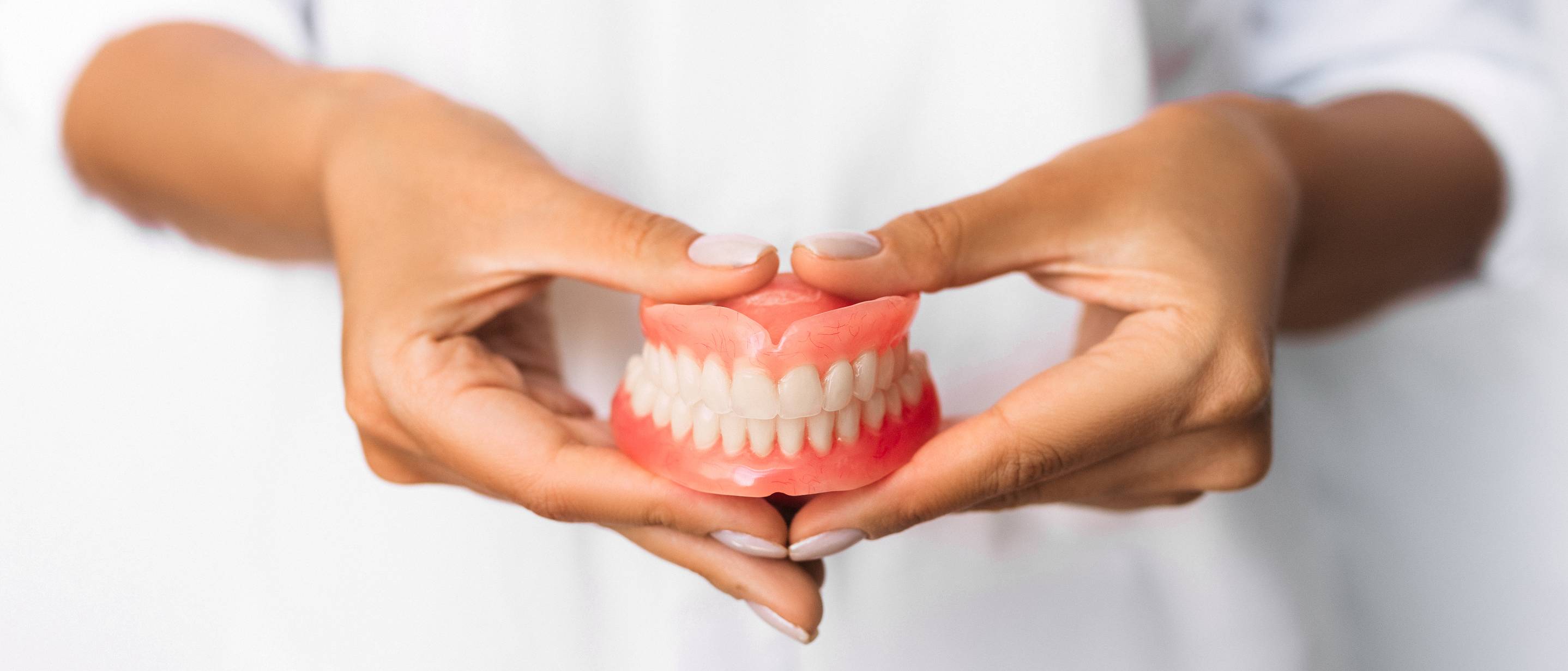 Types of Dentures
There are two kinds of dentures: full and partial. Full dentures are used when all teeth are missing, while partial dentures are used when some natural teeth remain. Partial dentures fill in the spaces created by missing teeth and can either be fixed or removable.
Dentures Procedure
Getting dentures will require two visits to the dentist. During your first visit, your dentist will take a series of measurements and impressions. These will be used to fabricate your new dentures. The dentist will also remove any remaining teeth, if necessary. The impressions taken will be sent over to the dental lab to fabricate the restoration.
Once they are ready, you will be notified to come over for the next visit to get your final restoration placed.
Benefits of Dentures
Dentures can help improve your facial muscles and make you look younger. Your facial muscles can sag or droop when your teeth are missing, causing you to look older than you are.
Dentures can improve your smile by filling in gaps between teeth and correcting your bite.
They can restore a person's smile and help boost his or her self-esteem.
Dentures provide much-needed function and ease of use for chewing and thus, improve digestion.
Getting dentures can improve your comfort.
Patients who get dentures reported improved overall health.
Dentures Maintenance
Your dentures should be cleaned, brushed, and rinsed daily. This will help to prevent bad breath and infection. Plaque and bacteria can build up on the surface of your dentures, which can lead to gum disease and tooth decay. Not giving your dentures the proper care that they need can lead to loose or ill-fitting dentures, and you may even have to replace your dentures sooner than you had planned. Our dental team will provide specific instructions to you on how to use and maintain them.
It is advised not to use toothpaste to clean your dentures, as it will scratch the material. You can use denture paste or a neutral cleaner.
On-site denture lab
One of the biggest appeals of our dental office is that we have an in-house denture lab where patients can come in for a denture repair/reline and leave with their dentures repaired/relined. Our in-house denture lab allows us to do same-day denture repairs and relines. When our dentist notices that your dentures are loose, broken, or shifted, we can often repair them right here, in the office, while you wait. We can reline your dentures, repair parts of your dentures or repair dentures that are cracked. This prevents the need to visit our dentist and dental lab multiple times over an extended period of time to get your dentures fixed.
At Arizona Dental, we ensure to provide each of our patients with a positive and relaxing experience. If you're ready to experience the best dental care, please contact us from your nearest location. We will be happy to guide you further.